Kathy Phyllis Robert Diane Catherine Kim Conni Arlene Bear Zachary and Ebony
Testimonial: Zachary and Ebony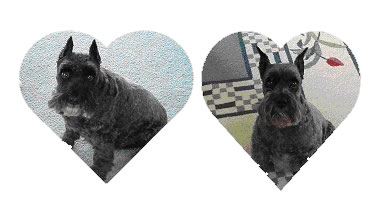 We are named Zachary and Ebony. We are both black miniature Schnauzers. Our owners (parents) say we are really cute and good pets. They treat us really well, but used to leave us home alone for a long, long time (they said they were working).
Dad has recently retired, but he still plays golf and volunteers at the hospital, which means we could still be left home alone a lot. But we are not left alone.
We met Judy two years ago. She has become a friend, whose visits we really look forward to when our parents have to be gone for a long time. She even comes to visit when they go out for the evening.
We are not easy to make friends with, but Judy won us over with her caring and treats! She takes us for walks and plays with us. She is lot's of fun and we really like her. We hope others who read this will have a chance to become friends with Judy, too (we are willing to share her).