Kathy Phyllis Robert Diane Catherine Kim Conni Arlene Bear Zachary and Ebony
Testimonial: Kathy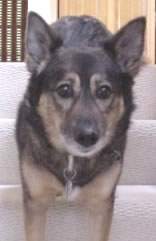 Hooray for Jeff and Judy at Pet Professionals! They have been taking our beloved dog Betsy on a daily walk for over 2 years, and they have always been very dependable and flexible in providing this valuable service for us.
Betsy loves them and they truly love her which is very important when you're as crazy about your dog as we are. On Fridays, when we are going to leave for the coast right from work, they will take her on a walk and then bring her to meet us so we don't have to return home to pick her up. Believe me when I tell you, you and your pet are going to have a hard time thinking how you got along without these folks!
I have had the experience of staying home sick from work and being in bed when they've come to get Betsy and gotten to hear all the loving "baby talk" and excitement they show to her when they pick her up for her walk - kind of the "fly on the wall" experience, and I can say they treated her just like their own.
Kathy